Vintage Nylon Dotty Trim
Vintage nylon trim 1950s. Stunning, delicate and ever so soft vintage nylon dotted trim.
Perfect for all your cottage decorating , prim sewing , craft projects mixed media journaling scrap booking ATC's altered art etc…
This listing is for 52 mts. – 56 yards of RED dotty trim/ribbon.
See more here…
This listing is for 42 mts. – 45 yards of BLACK dotty trim/ribbon. See more here…
SOLD Vintage quilt fabric panels, Dick, Jane fabric. 1940s,1960s era images, vintage fabric, children, dogs, toys, Scenes from "Dick and Jane"classic books. Unused (as new) Made from cotton. 9 pieces in this lot.  See more here…
Ritmeester Pikeur Tin – Vintage cigar tin full of vintage buttons.
Over 170 smaller brown whits some colour, buttons
Bakelite, mop and other. Many passed the Bakelite water test
1 card of 4 vintage Beutron buttons
1 card of 2 aqua, sea green buttons
1 card of 3 silver metal buttons
1940s-60s
2 cards British snaps. 12 on each card
Ritmeester Pikeur cigar tin – yellow
1950s
5″x4″x1″ – 14x10x2cm.
Some rust and scratches and no. 18 writing on the outside. See more here…
SOLD Beautiful and original, vintage/retro, 1960s tea towel for all your retro dining.
100% pure linen.
Features wine glasses, bottle, fruit, frangapany, bowl, flowers, drinks and fruits.
Nice bold, bright colours.
No holes or stains.
Good condition. see more here…
2, 1950's recycled lace panels with daisy's and roses
Cotton daisy panel – Size 17″ x 8″ – 43″ x 20cm.
Yellow nylon rose panel – Size 22″ x 6″ – 56 x 16cm.
Era 1950s
Made from nylon and cotton
White and yellow
Floral lace
Each piece is big enough for all your craft sewing projects, slow stitch, quilting, or you could cut out each individual flower for applique, embellishments etc.
Great condition! See more here..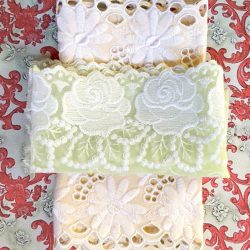 Vintage Dress fabric. Feathers 1980s
Size 60″ x 46″ – 150 x 117cm.
Vintage Crepe de Chine (slight crimp texture)
Made from polyester.
Black and white
Feathers floating in all directions design
Nice piece of fabric for sewing , framing and all craft art projects. See more here…
SOLD Vintage nautical cotton seersucker fabric
Size 36′ x 36″ – 90 x 90cm.
Vintage seersucker fabric (bubbly texture)
Made from cotton
Navy blue, Red, white
Nautical design
Exclusive design by Selwyns fabrics.
Nice piece of fabric for sewing , framing and all craft art projects. See more here…