Category Archives:
Decoupage
My Beautiful French Paper Napkins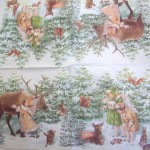 I love to collect napkins . These ones are very special to me and would have to be my favorite ones. Each napkin is covered in little rabbits, squirrels and reindeer with children playing in the snow, wearing colorful hats, coats and hand mittens.
Story behind these napkins…
I found these beautiful paper napkins in Paris. I bought them for our Xmas dinner at my son-laws parents in 2009. We had 11 courses of decadence consisting of colorful seafood terrains, Brittany crabs, lobster, chicken voulavents, duck, venison, deserts and to finish it all off, a huge chocolate buche covered with little ceramic ornaments. All this, while watching the Eiffel Tower lights twinkling out the window. I'm very spoilt when I live in Paris.
Paper Napkin transfers are fun too… check out this video
As a thank you to all my readers,you can download my 2nd Antique Cartes Postales collage sheet for free. Just click on the image and it will enlarge so you can print it out for all your art and craft projects
ABOUT THIS COLLECTION
A gorgeous collection of very rare images of Antique French Cartes Postales (post cards)dating back to early 1900′s scanned from my own large collection of original antique postcards and bits and pieces I gathered from my travels in France , Europe and Australia.I played around with this image and made my own design by adding an antique decorative French lock with found fonts.
Great for all your creative projects: Artistic booklets, Card making, Collage ,Painting Altered Art, Assemblage Scrapbooking , Fabric and Transparent Transfers , Jewellery and so much more.
More of my free collage sheets
TERMS OF USE FOR DIGITAL IMAGE COLLECTION
You are free to use the images in your personal art and/or crafts and for art and/or crafts you intend to sell. You MAY NOT re-sell the images in any form.Images may NOT be resold to others, as a collection or part of a collection, of any size in any format (digital, print, etc.)